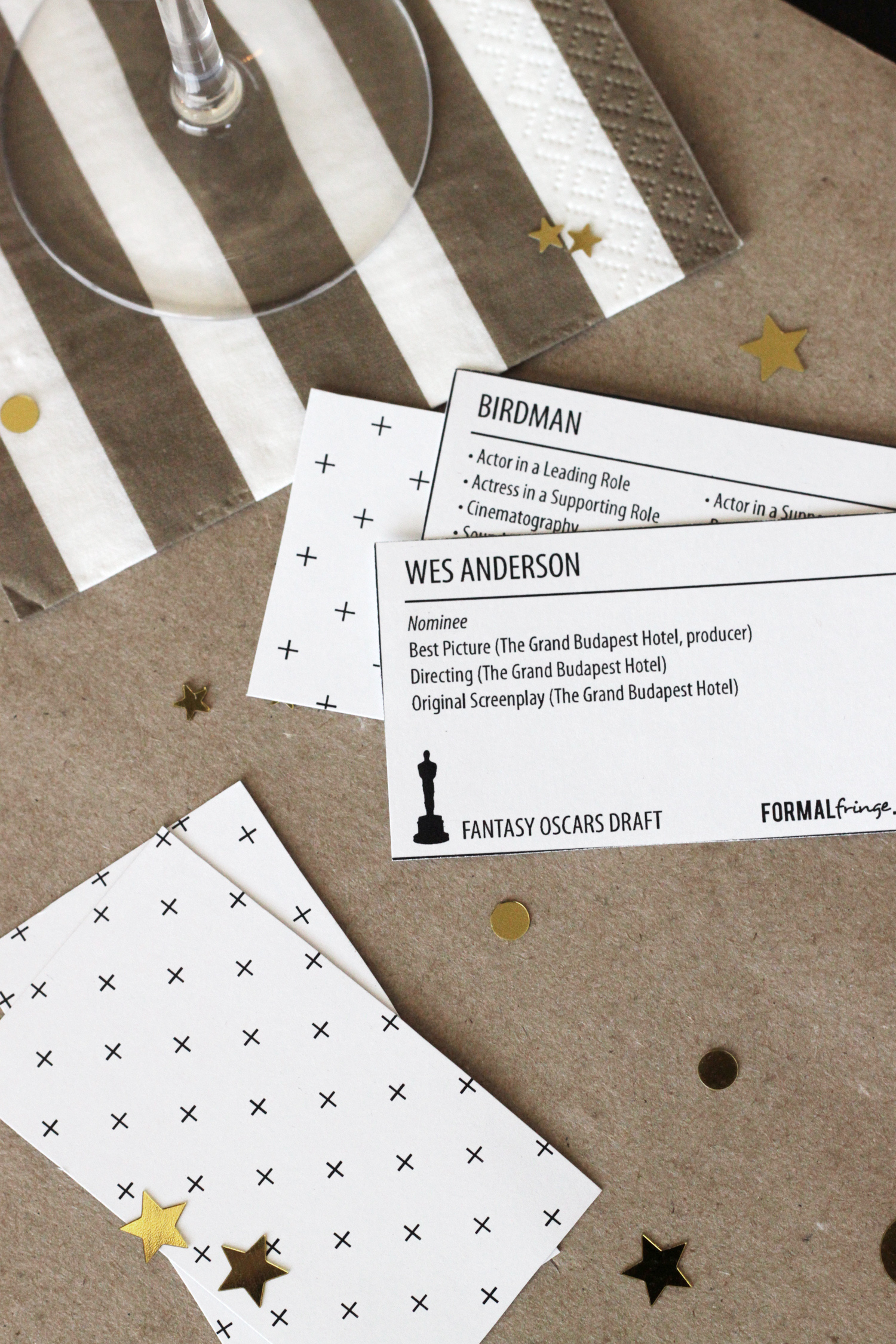 2015 Fantasy Oscars Party Game
It's that time of year again, folks. 'Tis the season to lock yourself in at home and avoid the bitter cold outside by making good on your promise to watch every Oscar-nominated movie before the awards air (in two weeks, by the way).
So how are you doing? I'm definitely slacking this year. Of all the Academy Award-nominated movies and performances, I've only seen The Grand Budapest Hotel and Gone Girl (with leading actress nominee Rosamund Pike, who was crazy scary in the movie, no?).
While I slacked at actually watching movies this year, I've been keeping up with the awards race, and getting to see little bits and pieces of 2014's best films and actors. So, not to brag or anything, but I think I'll be really great at the Fantasy Oscar Draft at this year's party.
If you're new to the game, here's how it goes:
Print off this deck of cards, featuring this year's Oscar nominees, performers and presenters. They're shaped to fit Avery tear-apart business card paper, but I always print on the back of patterned cardstock paper and cut them apart. Lay out the cards face up on a table or the floor.
Have guests draw numbers from a hat; this is your draft order. The person with the first pick makes their draft selection, choosing one card from all the available people and movies (If I get first pick, my money's on Birdman). The second pick goes next, and so on until everyone has chosen a card. In the next round, the draft order is reversed so everyone has a fair shot; it's called a snake draft.
Once everyone's chosen their team (of 5-7 cards), pop some popcorn and settle in for the Academy Awards. As the Oscars go on, you'll earn points for the movies and people in your hand. For instance, if you're holding Birdman when it wins Best Picture, you'll pick up three points for the movie winning, but also a few spare points each time the name of the movie is said. Tally your points on the cards, and at the end of the broadcast, compare your score with the other players. Most points wins!
It's a really fun way to watch an awards show with friends. And, yes, in case you're wondering, the idea was totally inspired by fantasy football. Even if your friends aren't movie buffs, chances are they'll get into the spirit of competition with this party game.
What are you waiting for?
Happy watching!