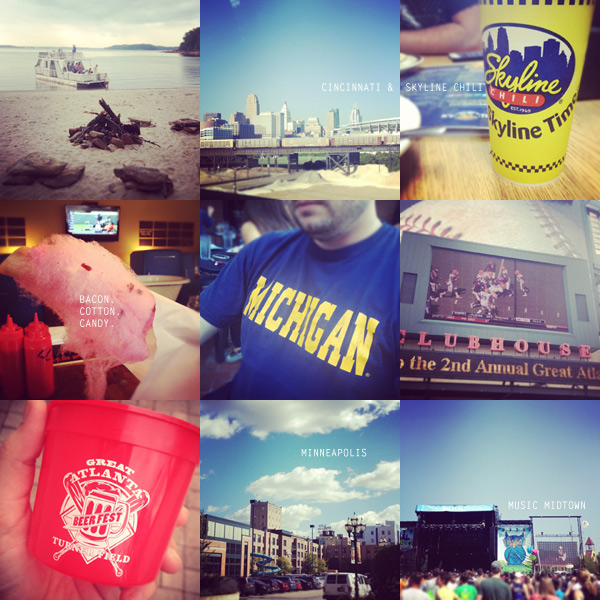 Life According to Instagram: September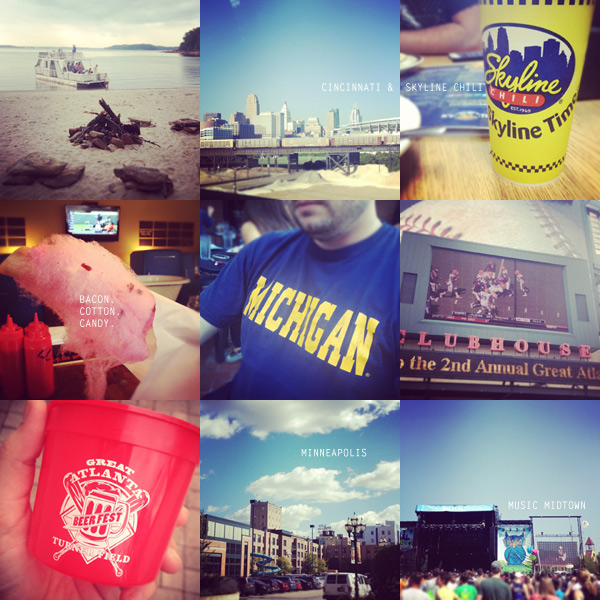 I've seen this feature on some other blogs, and I've got to say that it seems like a great way to stay present. I'm going to take one day at the end of the month to recap what I've done, seen, eaten and photographed through Instagram. I mean, if it wasn't important enough to take a vintage-effect cell phone photo, then it wasn't really important to my life, right?
I wanted to recap two months here, because I've had an amazing end of summer. In August, I took a trip on a pontoon boat to a secluded cove with some great friends, traveled to Cincinnati to attend and photograph a dear friend's wedding and, of course, to stuff my face with some famous Skyline Chili.
September saw some good weather (in gorgeous Minneapolis where I was planning an event), good eats (Bacon Cotton Candy from Bone Lick BBQ—hell yes!), good drinks (at the Great Atlanta Beer Fest at Turner Field), good football (Michigan kicked off with a tough Game against Alabama and my beloved Florida Gators are sitting pretty at 4-0!), and good music (the Music Midtown festival at Piedmont Park where I saw Foo Fighters, Girl Talk, Ludacris, Neon Trees and Florence and the Machine again).
How is your summer winding down? Ready for fall yet?