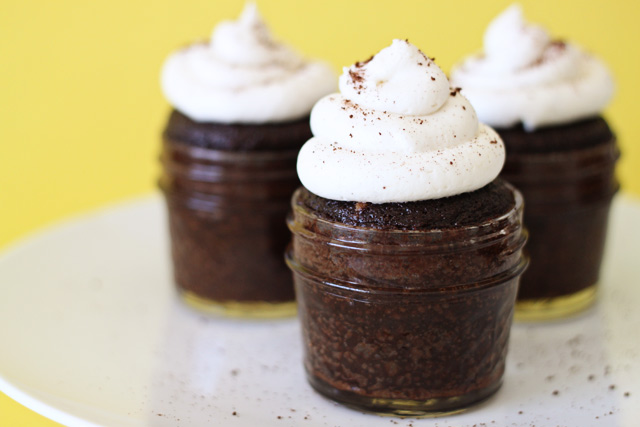 Coffee-Scented Chocolate Cake with Vanilla Coffee Buttercream
OK, I'll admit… I totally didn't understand the "scented" cupcake thing until now.
You always hear those fancy bakers from posh cupcakeries talk about pistachio-scented this and almond-scented that. And you know what? It used to sound silly to me.
But now I totally get it. In my Google quest to figure out what makes a really moist chocolate cake, I added a little secret ingredient to these cupcakes (the ones I baked into mason jars with my leftover batter). It imparts a mouthwatering coffee scent without making you feel like you're eating a coffee-flavored cupcake.
Want to know the secret?
Instant coffee.
I bought a box of eight of these little Nescafé Clasico packets, used one to stir up a cup of coffee (J and I don't have a coffee maker at home—sacrilege, I know!) and added that java-licious mug straight into the batter before baking.
The results were moist, mouthwatering and quite delicious when paired with a vanilla coffee buttercream frosting that features the same instant coffee powder mixed right in.
Now, the frosting's not coffee-scented, that thing just tastes like a straight up vanilla latté.
No joke. A moist chocolate cupcake with a whipped latté on top.
Ready to chow down?
Coffee-Scented Chocolate Cupcakes with Vanilla coffee Buttercream
2015-03-25 08:02:57
For the coffee-scented cakes
1¾ cups all-purpose flour
2 cups sugar
¾ cups cocoa powder
2 teaspoons baking soda
1 teaspoon baking powder
1 teaspoon salt
1 cup buttermilk
½ cup vegetable oil
2 extra-large eggs, at room temperature
1 teaspoon vanilla extract
1 cup freshly brewed hot coffee
For the vanilla coffee frosting
½ cup solid vegetable shortening
½ cup (1 stick) butter, softened
1 teaspoon vanilla extract
4 cups sifted confectioners' sugar
3 tablespoons milk
1 gram instant coffee powder (about one-half of an instant serving)
Make the cupcakes
Preheat your oven to 350°F. Line two cupcake pans with 24 cupcake liners (or just use mason jars!).
In one bowl, sift together the flour, sugar, cocoa, baking soda, baking powder, and salt until well-combined.
In the bowl of an electric mixer, combine the buttermilk, oil, eggs, and vanilla, then mix together until just combined. With the mixer still on low speed, add the dry mixture in three parts, allowing each addition to mix in completely. With mixer still on low, add the coffee and stir just to combine.
Pour the batter evenly into your cupcake liners and bake it at 350°F for 25 to 35 minutes, or until a cake tester comes almost clean (it's the secret to moist chocolate cake). Let the cupcakes cool completely.
Make the frosting
In the bowl of an electric mixer, beat together the shortening, butter and vanilla until combined.
Increase the speed to medium and gradually add confectioners' sugar, one cup at a time, beating well after each addition. Scrape the sides and bottom of bowl as necessary. Add the milk and continue to beat the frosting at medium speed until it's light and fluffy. Add the coffee powder, then mix until it's combined throughout.
Adapted from Ina Garten
Taryn Williford https://tarynwilliford.com/