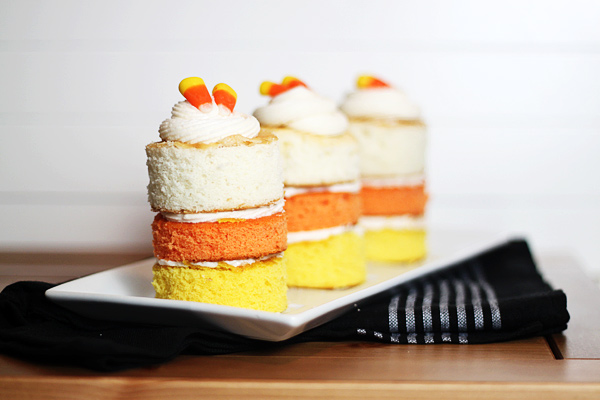 Candy Corn Mini Layer Cakes
Layer cakes are just more festive. Period. I mean, I love cupcakes as much as the next girl, but I'm always impressed when a layer cake shows up to the party. That means business. That cake is barging in and saying, "That's right, people. This casual shindig just got upgraded to level: fancy."
Luckily, you don't have to make a full layer cake to get the same experience. The only thing that says "fun" more than a layer cake is a tray full of tiny food. So what happens when we combine the two? Magic.
I made these here mini layer cakes in the spirit of my favorite Halloween staple: Candy Corn. Three colors. Three layers. All delicious.
Here's how it goes: After you've made your batter, split it into three equal amounts, then dye one batch bright yellow, one batch orange and leave the last batch alone.
Pour the batters each into their own 8″ cake round, then bake as directed. Once the cakes are done and cool, use a round cookie cutter to cut small circles out of each large cake. You should be able to get 4 or 5 circles from each cake round. (You have my permission to eat the extras.)
Once you have all your cake rounds together, it's time to stack. Frost the top of a yellow cake circle (use whatever frosting you'd like!), then gently stack an orange layer on top. Then, frost the top of the orange one and lay the white layer on top. Pipe a swirl of frosting on top and add a few candy corns for extra flair. Voila!
If you have leftover discs, or if you're late to the party and it's after Halloween, you can totally stack these in an orange-yellow-white order and call it "ombre." I won't tell.
You could use any light-colored cake, but here's the recipe for my favorite white cake to get you started.
White Vanilla Cake
2015-03-25 06:46:36
Ingredients
5 egg whites, room temperature
¾ cup whole milk, room temperature
2 teaspoons vanilla extract
2 ¾ cups cake flour, sifted
1 ¾ cups granulated sugar
1 tablespoon + 1 teaspoon baking powder
¾ teaspoon salt
12 tablespoons (1 ½ sticks) unsalted butter, room temperature
Instructions
Preheat the oven to 350°F. In a bowl, combine egg whites, ¼ cup of the milk and vanilla. Set aside.
In the bowl of an electric mixer, combine the dry ingredients and stir to mix. Add the room temperature butter and remaining milk and mix on medium speed for 1 ½ minutes.
Add the egg mixture in three batches, beating on medium speed after each addition.
Pour the batter into greased or lined cupcake pans or cake rounds and bake for 20-30 minutes.
Editors Note
I cheat at recipes sometimes. I usually—sarcastic air quotes—"sift" my flour (read: stir it with a whisk) and wait for the butter to "soften." But for this recipe, you can't cheat. You want that butter to be SOFT.
Taryn Williford https://tarynwilliford.com/